Mirostone benchtops by Amorini
Mirostone is the newest Solid Surface product to hit the shores of New Zealand and is exclusive to Amorini's trade partners. Mirostone's range of durable solid surface benchtops have all the beauty and feel of natural stone combined with exceptional practicality.
Mirostone can be safely installed in your home using standard woodworking tools, successfully avoiding all the time consuming delays and inconvenience of other surfaces.
Mirostone's colourful designs are not just skin deep, they run consistently throughout its 20mm thickness. So now you can have some uniquely stylish and practical worksurface features.
Mirostone is a modified acrylic meaning unlike stone composites and other surfaces on the market, it can be repaired and renewed with ease.
Mirostone is a solid work surface with no chipboard core, therefore it is completely waterproof and perfect for kitchens, laundries and vanities.
Mirostone is a completley safe surface on which to prepare and eat food. It is easy to clean and its waterproof nature prevents germs from being harboured on the surface.
More Information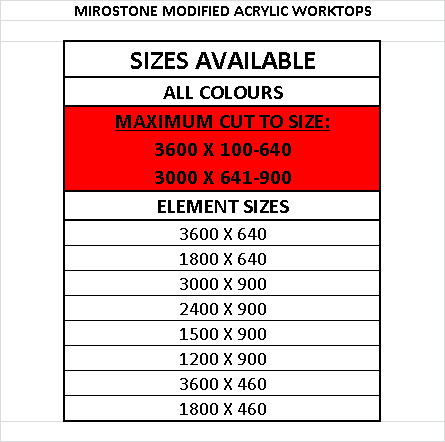 Brochures
Warranty & Installation
Tools & Technical Specifications
Mirostone Installation Guide #1 [Drawer Unit Strengthening Rail]
Mirostone Installation Guide #2 [Changing Cabinet Top Rail]
Mirostone Installation Guide #3 Fitting a Hotplate
Mirostone Installation Guide #4 Fitting an Undermount Sink
Mirostone Installation Guide #5 Joining Mirostone Benchtops